This is the web site of John and Amy Barnwell (aka Scubadaddy & Dot Com). We love to scuba dive and travel so, to combine these two loves, we lead groups on several trips each year to somewhere in the Caribbean or Gulf of Mexico. These pages are here to help those traveling with us keep up with planned trips and events, see pictures and report of themselves on past trips, and introduce us to new divers and travelers. We also find it useful for keeping our friends and family informed about what's going on in our world. So, even if you're just surfing the web and ran aground here for a few minutes were glad you're here. If you need information on scuba training, dive travel, or if you want further information on who we are and what we do that you can't find in these pages, feel free to drop us a line at the e-mail address on the menu bar and we will get you whatever information you require.
Scubadaddy's Whereabouts

= Shreveport, LoUiSiAna, USA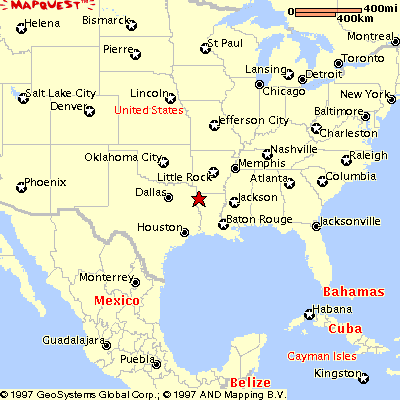 Details - Details - Details

Cypress Lake Sunrise
(from the back porch)
Work
JB has been working in the Ark-La-Tex oil & gas industry for over 35 years. After being raised in the drilling business (Barnwell Drilling Co.) he attended Louisiana Tech University and received two B.S. Degrees, one in Petroleum Engineering and one in Professional Aviation. He is a Registered Professional Engineer in Petroleum Engineering and serves as Vice President of Operations for Merlon International in Houston, Texas (www.merlonpet.com). Merlon has drilling and production operations in Texas and the Middle East (Egypt) with a very active exploration and production program in both areas.
Amy has departed the medical field and is having great fun just doing what she wants to do everyday which mostly revolves around the five grandchildren... a full time job!
Scuba
For fun & DIVErsion, the whole family scuba dives. Scubadaddy has been diving since 1963 and was first certified by S.C.I.P. (Southwest Council Instructor Program). You gotta be an old timer to remember S.C.I.P. Scubadaddy is now a certified SSI (Scuba Schools International) Advanced Openwater Instructor and a PADI (Professional Association of Diving Instructors) Openwater Instructor. Amy is an Advanced Openwater Diver working towards her SSI Master Diver certification. She has recently been taking some great underwater pictures. Some can be seen in the "Trip Reports" pages.
One of our favorite places to take our diving groups is Cozumel. Travel there is very easy, the island is beautiful, the water is warm and clear, the people are friendly, the reef system is alive and well, and dollar for dollar there is no better value anywhere in the world. You can take a look at Scubadaddy's "Travel" page to see when and where the Scubadaddy is going next - or - take a look at the" Trip Reports" page to see where we've been.
Our scuba activities have been slowed the last few years due to several working trips to Romania and Egypt. However, we are in the process of making plans for some seriously fun dive trips later this year and next. So, stay tuned... we're getting back in the groove.
My brother, Jim Barnwell, has produced award winning video of many of our dive trips. He has trained the Scubadaddy to film and edit his own video productions and must have done a good job because they are really good! Jim lives in Memphis, Tennessee with his sweet wife Donita and multitalented children, Beth and Blair. He works for the Bellevue Baptist Church where he is the Director of Media Productions. Bellevue is a little church on the East side of Memphis in the community of Bartlett. At last count, this "little church" sported a membership of close to 30,000! Take a look at Jim's personal web page. He has some interesting stories and other fun stuff to look at and read.
Jim's Pilot News Program


That's One Bad Dude!
HOG's and such...
"Scubadaddy" met "Hogdaddy" about six years ago. Some may say it's "middle age crazy", but call it what you will, it's a whole lot of fun! We started out riding a 2000 H-D SoftailŽ Standard and after two years and 20,000 miles we picked up a 2003 Anniversary Edition H-D Road King Classic. Still riding the Road King... they don't call it "Road King" for nothing!
Here are a few pictures.
"Hogdaddy", Amy, Gina, Kenny on the

Talimena Scenic Byway in Arkansas, July 2001

Amy, JB, and the Road King on the Dam at

Lake Ouachita, Hot Springs, Arkansas, September 2003
Airplanes
Well, now we're getting serious. Just when you though it was safe... Scubadaddy and Hogdaddy met up with Flydaddy. If one needs to be in about a half dozen places within 600 miles of the house on a regular basis, then you probably need an airplane or two. Ours first was/is a 1976 Beechcraft Bonanza known to us as "Tango" (N1024T). It's a V35B with better instruments than most airliners and best of all... Air Conditioning!! Comes in real handy down in these parts!
Our newest edition is a '79 Beechcraft P Baron known to us as the "Love Machine" (N80LM). This one is turbocharged, pressureized, and airconditioned. Longer legs, over the weather (up to 25,000'), two engines (650 hp), 6 seats. Now if we can just get a day off to go somewhere...